Frequently Asked Questions
Can we get married on the property?
Yes, there are multiple locations on the property that can be used for the ceremony.  The seating for the ceremony is the responsibility of the renter.
How many people can be seated in the barn?
The barn can seat up to 200 people.
Are there tables and chairs?
Yes, and the tables and chairs are included in the base rental price.
Are there bathroom facilities available?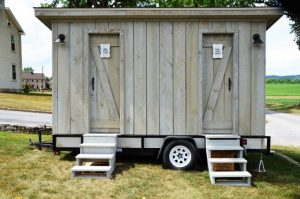 The Tiadaghton Farm owns a bathroom trailer that can be rented.  The bathroom trailer includes electricity, running water and supplies.  You may rent your own portable toilets if you choose not to use the bathroom trailer.
Can we serve alcohol at our event?
Yes, a liability/event insurance policy must be purchased and include an alcohol rider.
Is parking available?
There is plenty of parking for the guests.  The owners assist with getting the vehicles parked to maximize space.
Are pets allowed as part of the ceremony?
Yes
When can we have access to the property?
The property is available starting at 8 am Thursday the week of your event.  The event must end by 11 pm.  The property is available through Sunday at noon.
Do you do other events in addition to wedding?
Yes, some of the other events that have been held at Tiadaghton Farm include, rehearsal dinners, class reunions, birthday parties, retirement parties, and bachelorette wine & design.  Smaller events have access to the farm for the day of the event.
Do you have designated business partners that must be used for food, photographs, etc?
No, we do not utilize exclusive vendors.  This is your day and you can plan it with the vendors that you want.
Have a question you don't see here?